Govetts Leap
From Blackheath town centre, a short drive to the east takes visitors to Govetts Leap (GPS 33.627926°S 150.311518°E), a lookout with spectacular views of the Grose Valley and nearby waterfalls. Govetts Leap was named after William Romaine Govett, one of the first surveyors of the upper Blue Mountains, who discovered this spot in June 1831.
A horse and rider monument in the park beside the Great Western Highway at Blackheath village tells the story about Govetts Leap. There is a folklore legend that tells of an escaped convict – turned bushranger named Govett who, pursued by troopers, found himself trapped on the edge of a 300 metre cliff. Preferring death to capture, he wheeled his horse around and together they leapt over the edge. To dispel the legend, Govetts Leap wasn't named because he jumped off the cliff at this point.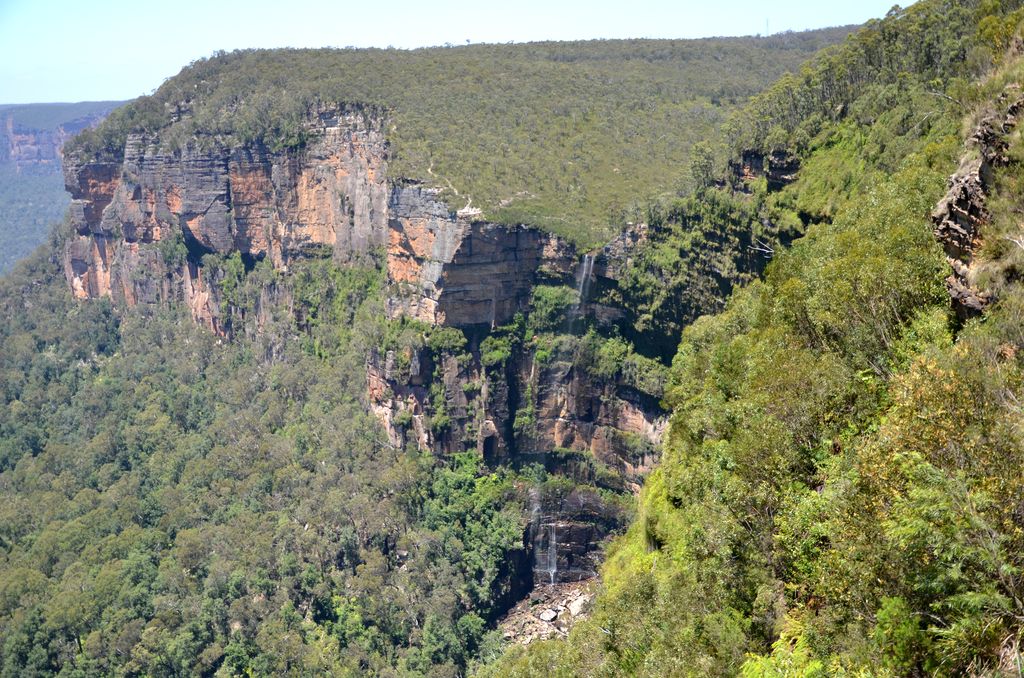 Bridal Veil Falls
A "leap" is a Scottish word meaning a small cataract or waterfall. Therefore Govetts Leap actually refers not to the lookout, but to the falls in Govetts Leap Brook, often known as Bridal Veil Falls. At At 180 metres, this is the tallest single drop waterfall in the Blue Mountains.
Map of Walks from Govetts Leap
At the top of the escarpment is a picnic ground, toilets and access to cliff top walks plus the Fairfax Heritage Track which is suitable for wheelchairs and prams. From here, a number of walking tracks leads to:
Bridal Veil Falls and Luchetti Lookout
Trinity Falls or Horseshoe Falls
Braeside Walk
Pulpit Rock Walk – to Cripps Lookout and Pulpit Rock
Popes Glen Walk to the Blackheath village